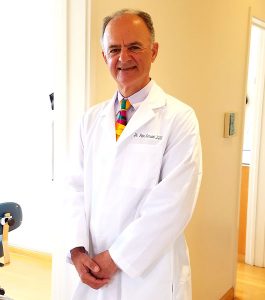 Peter A. Karsant, DDS
Dr. Peter A. Karsant earned his Bachelor of Science in Cell Molecular Biology, with a minor in Psychology.  Prior to attending dental school, he spent 3 years working in brain and drug research. In 1982, Dr. Karsant graduated from the University of the Pacific School of dentistry with his Doctor of Dental Surgery (DDS) degree. He completes 50 hours of continued education each year in order to advance his knowledge of dentistry and continue providing his patients with quality dental care. He has received 2 years of hands-on surgical training for implant placement and third molar (wisdom teeth) removal, and 1 year of training for endodontic surgeries.
Dr. Karsant's other accomplishments include:
Taught continuing education courses at University of the Pacific for 10 years
Lectured on Endodontics and Implants at Queens University in North Ireland
Lectured on Implants to dental societies locally
Teaches 3 courses per year on narrow beam implants
Dr. Karsant is a member of the American Dental Association, the American Association of Endodontics, and the International Congress of Oral Implantologists. As a dentist, his goal is to give every patient the best dentistry he can provide, with treatments tailored to their individual needs.
Dr. Karsant and his wife and office manager Yvette have an 11-year-old son named Geoffrey. In his spare time, Dr. Karsant enjoys cooking, gardening, and reading. Dr. Karsant has practiced dentistry in the San Francisco, CA, area for 30 years.
Meet Our Team
Our caring team at Karsant Dentistry works hard to make your experience at our office as pleasant as possible. We provide a family-friendly atmosphere and will babysit your children for you during your appointments. Each member of our team is also cross-trained to ensure that you receive excellent dental care at all times. To learn more about our dental services in San Francisco, California, and to make your appointment with our dentist, please call us today at 415-333-3919. We consider you our friend, not just our patient, and we look forward to meeting you soon.
Yvette – Office Manager
Yvette has been part of our team for 21 years. She is from North Ireland, where most of her family still lives, and was trained in Human Resources in Europe. Yvette loves our patients, and appreciates how hard our doctor and team work to take care of them. Her personality and dedication to both our patients and our team contribute greatly to the success of our practice. Yvette is married to Dr. Karsant, with whom she has 1 son, Geoffrey. Outside of the office, she enjoys theatre, opera, and spending time with her family.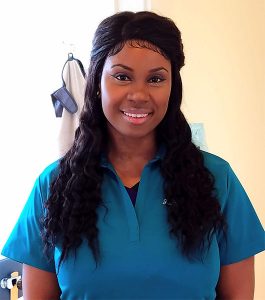 Tiffany – Receptionist, RDA
Tiffany has been with our practice for 14 ½ years. She is a graduate of
Bryman College
(class of 2002). Tiffany is a San Francisco Native, and helps out in every way possible at our office, from back office to front desk, sterilization, and inventory, as well as teaching about infection control once each month. Tiffany loves enjoys working with a genuine and down-to-earth team that gives their best every day.Tiffany's hobbies include running and travelling. She also takes Bootcamp, Insanity, and Bodypump weekly to stay in shape and add order to her life.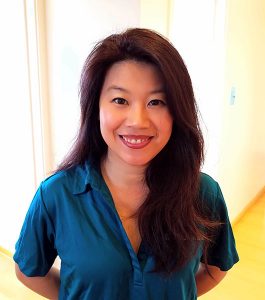 Mary – Registered Dental Hygienist
Mary has been with our team for 11 years. She is a Bay Area native, born and raised in San Francisco, and is known to be a passionate dental hygienist. Mary has worked in the dental field for 15 years; 5 of which were dedicated to being a Registered Dental Assistant for a general dental practice, which included but was not limited to cosmetic, periodontic, and oral surgery specialties. Since the very beginning of Mary's dental career, she enjoyed dentistry so much that found herself inspired and determined to become a dental hygienist. After putting herself through one of California's top hygiene programs and Foothill College, Mary achieved an Associates of Science Degree in Dental Hygiene. In the 11 years since that time, Mary has serviced the community as a professional hygienist, and continues to provide quality care in a compassionate, comfortable, friendly, and sincere approach.In order to balance work and personal life, Mary enjoys spending time with her son, and watching TV series such as Walking Dead, CSI, and Scandal. Her favorite food is Korean BBQ, and her dream vacation is to the Tahiti Islands.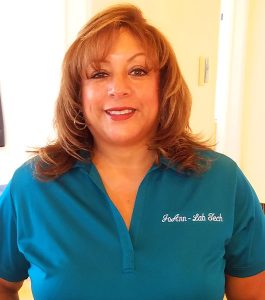 JoAnn – Head Dental Laboratory Technician
JoAnn joined our practice in March 2007. She is a native of San Francisco, and is an avid fan of our sports teams, especially the San Francisco Giants and the Golden State Warriors. JoAnn previously worked with Dr. Karsant for over 20 years while owning her own lab, Calmels Dental Ceramics, which she sold in 2003. She earned her Associates degree from SFCC, with a minor in Dental Technology. JoAnn strives to give our doctors the best finished product possible so that their chairside time is minimal and that our patients can receive beautiful restorations. She loves that we have an on-site lab that allows us to merge our technical and dental skills to create great looking and functional crowns and bridges for our patients.JoAnn has been married for 18 years to her husband, Phil. They have 2 children, Tommy (age 26) and Sasha (age 16). She enjoys reading, traveling, shopping, and arts and crafts.